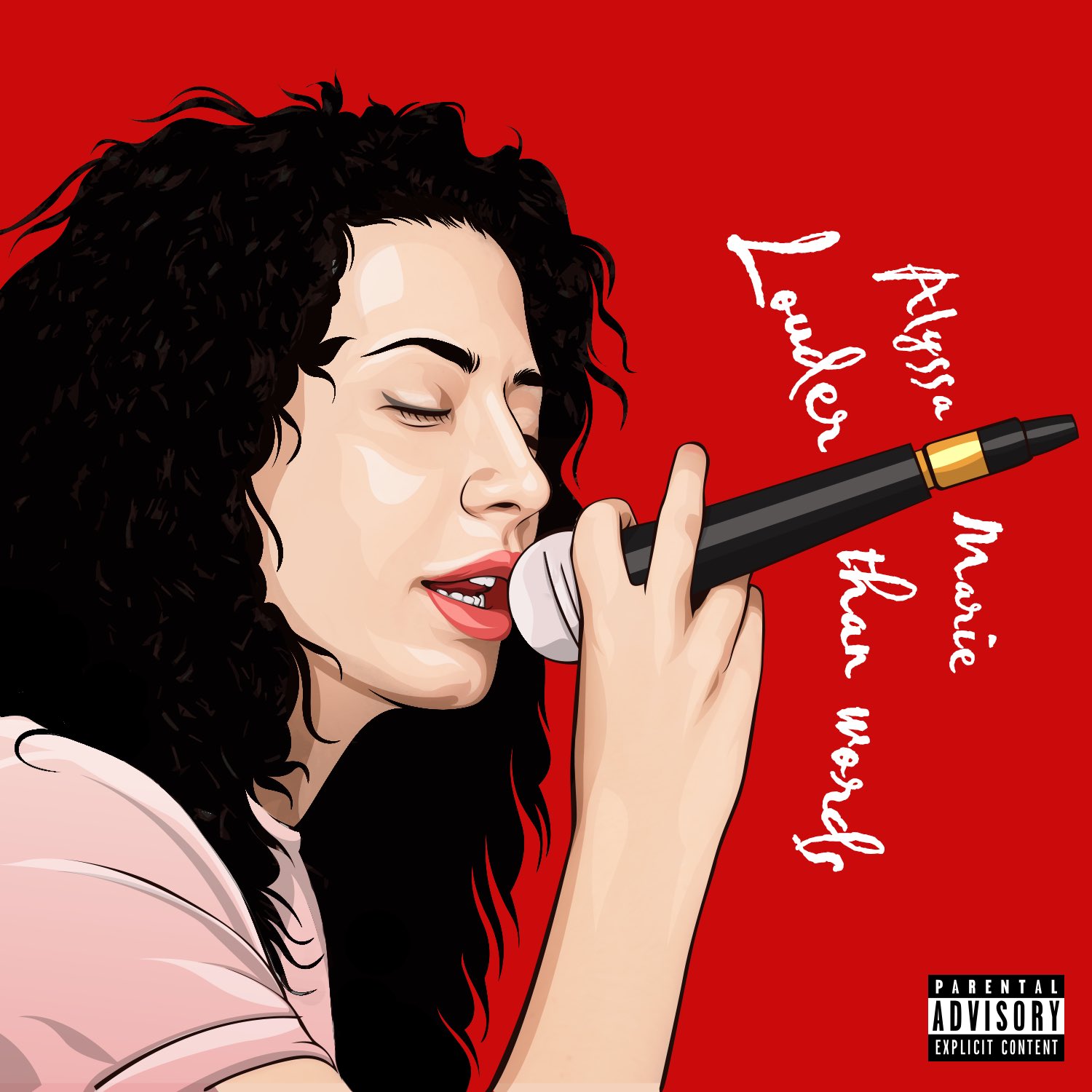 From the outside looking in, Massachusetts looks likely to be one of the strongholds of Hip Hop in the coming years. With Joyner Lucas enjoying BET exposure, Token tackling beats alongside Joell Ortiz, Joey B trading bars with Joe Budden and Notoriety on the cusp of dropping an impressive album, there are some tremendous talents coming from the state. Out of all those artists, Alyssa Marie was the first I discovered, and the latest to (re-)cement her credentials as one of the best out. With her fourth release, 'Louder Than Words', Alyssa offers her best showcase yet. 

Opening with 'Whoop Ass Season' an open letter aiming at whack rappers, Alyssa articulates with simultaneous aggression and precision. Every lashing of her tongue wielding potent venom hitting all the right spots over phenomenal percussive production. After a slight dip with 'Sky Is The Limit', comes the highlight of the album and Alyssa's career, 'Think About That.' In the five-plus years I've been checking for the bar-smith, she's always delivered thought provoking, emotionally resonant and socially conscious records – but never on this level. 'Think About That' is an example of a track that came at exactly the right time, to exactly the right person. A song that will undoubtedly stick with me forever. Prior to this, 'No Strings Attached' sat at the pedestal of Alyssa's artistry, but it pales in comparison. 

Unlike on 'No Parades In Easy Street', 'Louder Than Words' doesn't suffer from hosting the best track of Alyssa's career to date. Whilst it is undoubtedly the stand-out track, the rest of the track list is spectacular too. 'One Take' (featuring no Rude Kid production) tackles the difficult task of coming after the stellar song, but thrives where others may have buckled. As the album flips from a social commentary into a tale of personal introspection with a positive slant. At its core, 'One Take' it's a love song dedicated to her other-half but Alyssa does well to dodge falling into the trap of creating a cliché that sounds like the millions of other tracks of this kind the precede it. Layered with heart-felt and personable proclamations of seeming gratitude for her partners love, Alyssa blends it all with continuing to rap her arse off.
Following up, 'Escape' proves to be a powerful record of which I'm yet to fully work out – and that's the beauty of it. On first listen, it appears to be a record which explores the binary nature of drug abuse yet, knowing the deft penmanship Alyssa possesses, it's hard to imagine it's as simple as that. My first instinct is to believe its an extended metaphor referring to success or the music industry, or perhaps a combination of the two. I can only imagine it is very easy to manipulate to anyone who wishes to interpret it as to whatever their addiction is, and the ability to make music with multiple potential meanings is just another drop in the ocean of Alyssa's ability.
'(Don't) Quit' and 'Cold Water' round off the album nicely. They're more in the ballpark of 'Sky Is The Limit' than the preceding three records. That's not to say they're poor by any means. All three of those tracks are very good, it's only that 'One Take' and 'Escape' are exceptional, and 'Think About That' is one of the better tracks of the year.
All this being said, 'Louder Than Words' isn't perfect. Whilst I enjoyed each track individually; as an album it felt somewhat disjointed. Less of a narrative, and more so a selection of some very good singles thrown together. In 2016, the importance of an album being cohesive is decreasing in importance – but personally that'd have taken a potential album of the year contender into an album worthy of underground classic status.
In conclusion, 'Louder Than Words' in terms of content and Alyssa's straight up ability to rap is a definite contender of album of the year, so far and in my mind, the MC's best project yet. Maintaining the same level of lyricism and spitting, and tightening the structure, the next project could really separate Alyssa Marie from the pack and give her the exposure she repeatedly proves to deserve.
You can stream and purchase the album here.
http://bandcamp.com/EmbeddedPlayer/album=3404405033/size=large/bgcol=ffffff/linkcol=333333/tracklist=false/artwork=small/transparent=true/