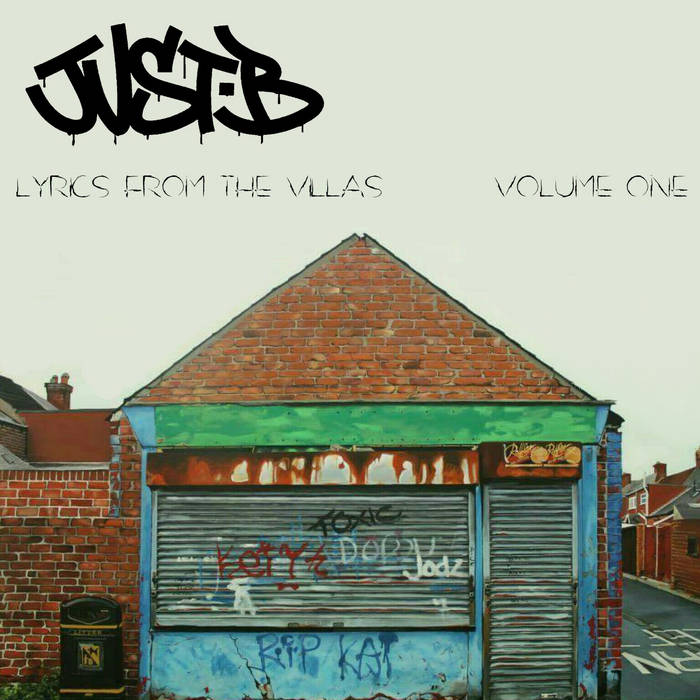 When it comes to North East (UK) Hip Hop – and Grime – Just B has been the name on the tip of everyone's tongue for well over a year now. Cementing himself amongst the crème-de-le-crème of local MC's, his name now mentioned in the same breath as the legendary Rick Fury, Just B has the regions rap circuit in the palm of his hands. Since we last heard a solo release from the technically talented MC, he's been blazing mic's back-to-back with Scotchwood's H-Man, where they're collectively known as HB. The pair perfectly positioned themselves as the undisputed kings of the North East with their collaborative album, 'The Perfect Storm', and now, both are set to release solo EP's respectively.

I had the pleasure to premiere 'Lyrics From The Villas Vol. 1' on my radio show. Playing each track in its entirety and offering a little reflection upon my first few listens. I've offered my opinion on the EP countless times in TheRootMusic Podcast, with a little more depth added in another podcast, a collaborative effort I'm involved with, alongside The Great & The Magnificent and Deffinition. Yet, for an MC who evokes excitement with ease in my local area, and for an EP with such depth and deliberation – I wanted to give the project its due diligence with a written review too.

Prior to plunging into the EP, I pondered to myself – What do I expect from this? What do I hope is my reaction coming out of it, and likewise, what do I hope isn't in my reaction coming out of it. The predominant thing that propped up in my thoughts, was that I really didn't want to come out of the EP, feeling like H-Man could have been on there. It's a trap many MC's fall into, when they're releasing solo efforts after a collaborative release earned so much hype. Luckily for the most part, Just B managed to escape this pitfall – up until 'Garden of Stone' the EP closer – and even then, I think that only came about because of the mention of the "kid from Scotchy."

Whilst Just B has made a name for himself as a Grime MC, there is a lack of 140bpm beats and skippy flows on 'Lyrics From The Villas Vol. 1.' Instead, B favours Hip Hop production from King Hippo, DJ A.D.S and Taiji Beats and delivers his words with a purposeful flow; adding versatility to his arsenal as he established himself as arguably the best technical rapper in the North East – only a stones throw from the likes of P Money in terms of coherent ability on the mic.
Opening up the EP, with title track, 'Lyrics From The Villas' which starts with a hilarious skit – only in the Geordie accent could "again because of the car" sound anything like "Genghis Khan." The track is probably the most upbeat on the project – between delving into battles with anxiety in stand-out track 'Wasted Potential', and co-dependency with his demons on 'Vinnie Jones' – Just B brags about his status in his local scene. Whilst I'm not sure I fully agree with the bar-smith's notions of his peers being 'weak', he certainly sets the bar higher than many have proven capable of reaching as of yet.

'Down In A Hole' offers a different insight into Just B than many might expect. A massive fan of rock music, his eclectic tastes are evidenced here as the entire song deals with a multitude of references to rock bands and music. As someone who hasn't actively listened to much guitar-based music for almost a decade, a lot of the references are probably a little lost on me and thus, regrettably makes this a somewhat low point of the EP. I say somewhat, because it's not a bad track by any means, only that it is not for me.

That's all forgiven by the time 'Wasted Potential' kicks in though. As previously mentioned, the track is a stand-out from a personal perspective. The emotional resonance it offers, despite the uncertainty as to whether it's a fictional narrative or some introspection from Just B, is at a level I'm yet to experience from a local MC.

It's getting to the point now, where it feels like I'm underselling Just B by calling him a local MC. I don't do so in order to imply by any means he is lesser than any up-and-comer in the other areas of the world right now. Quite the opposite. I'm so insistent in calling Just B a local MC because of the pride it provokes in having an artist of his quality hailing from the region who could go toe-to-toe with anyone breaking through in the UK right now.  



https://bandcamp.com/EmbeddedPlayer/album=835651735/size=large/bgcol=333333/linkcol=ffffff/tracklist=false/artwork=small/transparent=true/