After I (Lee) exposed my favourite albums, and they were all projects that came in 2000's or 10's – I asked Suood, Phil, Akash and Matt to recommend albums from the apparent golden era's of Hip Hop. The twitter conversation soon led to Phil proposing a Hip Hop book club – and here is SPLAM (we struggled for a name, but using our initials stuck). Using Onyx's S(p)lam as an unofficial theme song, we are going to take turns to recommend one another an album to listen to, and then post our opinions in a blog post. We are then to debate our opinions on Twitter, and invite other Hip Hop enthusiasts to join in the conversation using the #SPLAM.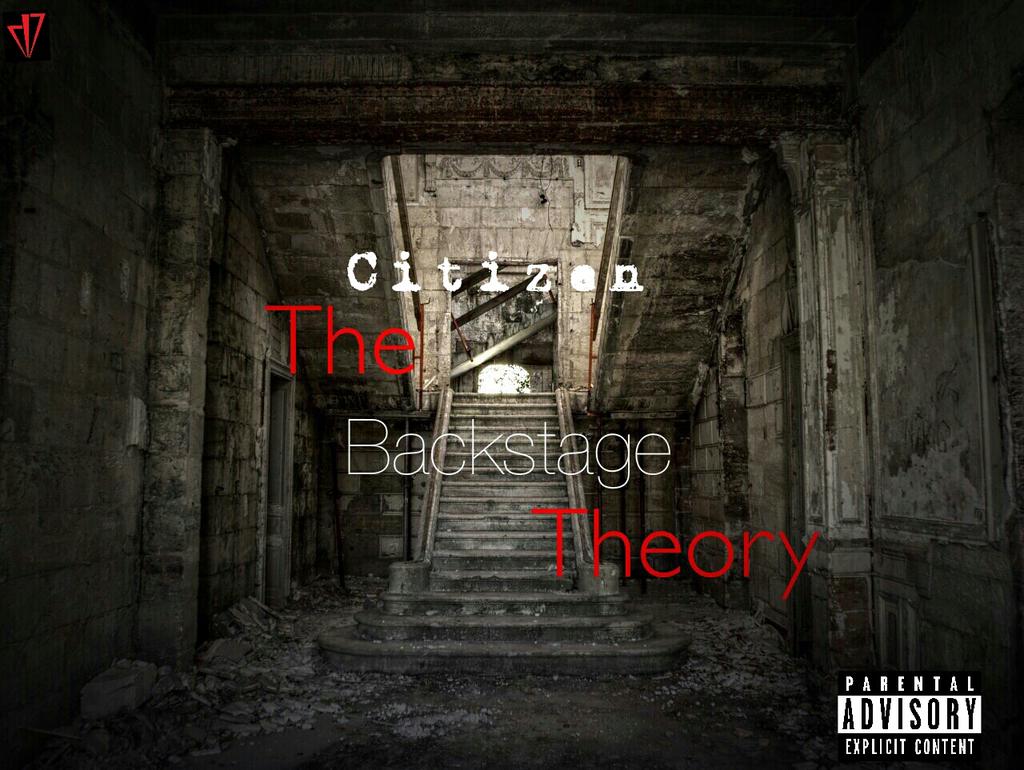 This week, we have Suood's recommendation of Citizen's The Backstage Theory.
 Here are the initial thoughts of the team:
"Other than horribly embarrassing efforts, the UAE's hip-hop scene has been pretty much nonexistent. There was no one that took the art seriously and considering the culture around here, it wouldn't be supported as the more traditional music is. But here we are in 2015 with a newcomer, Citizen, who brings along his first project, The Backstage Theory. The tape is set under the theme of a journey or a drive, even though it's loosely followed considering all the tracks on it. While covering varying topics from women to self-consciousness, Citizen still manages to bring more upbeat and enjoyable songs to the table. The Backstage Theory starts off with a SZA sample to set the mood of "DownTown" which serves as a good introduction. "Thoughts" however is an early weak point of the tape, as it gets boring and uninteresting quickly. The haunting production on "F.A.N." is the first thing to truly grip me along with the two verses, even though the effects on the 2nd verse took a lot away from it. The singing on The Backstage Theory is quite a hit or miss and on "F.A.N." I thought it was the latter. "Follow" was an instant summer jam when I first heard it and that's owe to the infectious beat and Citizen's flow on the song. However, the other summer anthem, "Hands Up," is one of the winners on The Backstage Theory. Lightheaded vibes provided by a smooth and soothing beat as the strangely named, The Bridge, outshines everyone on the song with a killer verse. We still find more moments of reflection though on "Sarcastically Honest," "Majils" and "Sell My Soul" while "Sensibly Supreme" intelligently shows us both sides of the page. "Streets" is probably the most well rounded song on The Backstage Theory. Citizen goes in with 3 great verses, the sample is perfect and the beat is completely accessible. Finally, "The Drive." This song is the most fitting in regards to the intended theme of the tape and it hits hard, due to the one-sided conversation and the gorgeous production. Furthermore, this one of the moments where the singing was done well, in a way where it compliments the song. Overall, Citizen does a good job of presenting his identity with a whole mix of songs and subject matter. His first project yet a great effort considering, with a decent length too. There's room for improvement but The Backstage Theory just has me excited for what more there is to come, as Citizen focuses more on the messages he's trying to deliver and developing his sound and structure. 
Favourite songs: Hands Up, The Drive
Least Favourite Song: Thoughts."
"The mixtape opens strongly with a pensive and brooding intro that continues into the first track DownTown. Citizen made a good first impression on me here – his voice carries a lot of power and he really grabbed my attention, switching up flows with a natural smoothness and a clarity of diction that enables the listener to easily catch what he's saying despite rapping as an impressive speed for a lot of the track. 
Unfortunately I found some of the tracks that followed meandering into
 fairly uninspiring territory. There's nothing particularly bad about the tracks 3-7 – some of them feel like they almost hits the mark (Thoughts, Loved Ones) and hint at a lot of potential but they just wouldn't have me hitting the rewind button.
By the midpoint of the mixtape my interest was started to wane a little, but the second half of Sensibly Supreme slapped me in the face and woke me the fuck up! From here on in The Backstage Theory elevates to completely new levels in my opinion. The three song stretch that follows is my high point of the album and each of them would fight it out for my favourite song. I feel like they demonstrate three totally different sides of Citizen – the party/playful side (Hands Up wouldn't sound out of place on radios or in clubs around the world), the straight viscous rapping his ass off on Streets (DAT SAMPLE btw) and the more introspective and raw emotional side on The Drive. A perfect snapshot of the artist. 
After a short skit the mixtape closes out with three more brilliant tracks including a trip into darkness on Majlis before finishing with the rousing and uplifting Sell My Soul that leaves me on the edge of my seat waiting to hear what he puts out next.
I dunno man, I just feel like the two halves of this tape are night and day – the first half sounds like a mixtape rapper with potential, but the second half takes everything and shifts dimensions to a much more focuses, polished and realised vision of what it is that Citizen is trying to do. Really enjoyed this one and thanks to my close ally/bitter enemy Suood for bringing it to our attention.
P.S. Mad props to a dude that didn't even speak English 8 years ago putting out such high quality work.
Best Track: Hands Up
Worst Track:  F.A.N
Lee:
"Listening to Citizen's The Backstage Theory had me falling into a sense of bittersweet nostalgia. The tape took me back to a time before I connected with any of the #SPLAM guys on Twitter, and when I first started out as a blogger, reviewing mixtapes from rappers releasing their first ever projects. Most of the projects were consistently average, whilst the artist themselves would be seeping with potential – and that's what sums up The Backstage Theory and Citizen. 
Listening to the tape, there were countless moments where Citizen would catch my attention with a beat that came out of left-field or a brilliant bar, only for the same tracks to turn into monotony, ten seconds later. There's no bad track on The Backstage Theory but there's nothing which reaches beyond a 7/10 either. For a debut effort, maybe it's harsh to expect something beyond a 7/10 but on the flipside, given that the #SPLAM series was created to educate ourselves on classic albums, I'd be lying if I said I wasn't expecting something on a higher level, and consequently it's much more disappointing than if I had have reviewed this outside of #SPLAM.
My main issue with Citizen is that for all of his technical ability to rap his arse off, his lyricism is generic and he fails to stand out and stamp an individual identity into the soundscapes within The Backstage Theory. There are glimmers of Big Sean, J Cole and Macklemore throughout. Being compared individually to any of those three would be no bad thing, but given their stark contrast to one another, it exposes the over-diversification on the project, especially considering they don't seamlessly blend within one another.
There's an abundance of potential for Citizen to succeed and make music which will be in regular rotation for my ears, and I'm sure I'll revisit The Backstage Theory now and again. It's not a bad project, its perfectly adequate in fact – but in a time when hundreds (if not thousands) of projects drop daily, it's not good enough to be average."

Akash:
"The first thing I thought of when I listened to Citizen's The Backstage Theory was how it sounded like Lupe Fiasco in his F&L2 phase – except these guys were actually fucking great. I was familiar with Abaiz's work before Citizen, so I was curious to see how his production would sound like on a full-blown mixtape and man, he did NOT disappoint. With melodic samples which transition to smooth loops, Abaiz hit every note right and created something that is beautiful. I'll admit, I found it hard to skip past Clap Your Hands without rewinding it a few times. Kudos. 
The laid back, melancholic and often cheeky rhymes ("put my soul on the paper 'cus I'm making money". Heh.) couples with a versatile flow, grounds the mixtape in its reality and in doing so, it creates something extremely humble and relatable. There's been very few projects that I relate to in terms of content matter – perhaps this is due to the fact that I'm not familiar with the background of these artists and their surrounding. But with Citizen, I found myself identifying with a lot of what they say and talk about, which made this mixtape all the more enjoyable. Listening to this blues-infused, jazzy mixtape was… quite the experience.
Thank you, Citizen.
So grab your Doritos and focus, ladies and gentlemen. Citizen has something incredible for you with The Backstage Theroy. Well done, fellas."
"Social media numbers don't mean anything when it comes to talent, this fact has been proven time and time again. In this digital day and age, some of the most slept-on music comes from artists whose Facebook page may have less than 100 likes. But who cares about that kinda stuff anyway? HOW DOES THE MUSIC SOUND? With that being said, this week's SPLAM entry highlights UAE-based rapper Abdulla "Citizen" Rahma. I haven't heard of Citizen before this, so before listening I was already excited for a new sound.
Citizen's new album, "The Backstage Theory" is, overall, a decent body of work. I'm not sure how old he is or how long he's been doing this, but I can hear a few different levels of experience outputted throughout the project. That fact alone would be my main negative feedback, along with some light mixing/mastering issues but that could just be because I'm a perfectionist. Lyrically, Citizen does a great job of creating broad strokes of picture painting and depicting scenes as he goes. A lot of artists struggle with this and leave the listener zoning out halfway through the track. As for the production value on here, I was actually quite impressed. These instrumentals were right up my preferred lane and kept me wanting more. My main drawback would be the length of the project as whole. I feel it may have been a little too long and shaving off that little extra could have given him a chance to highlight only the best of the best. I'll probably say this album is 50/50 when it comes to a song by song breakdown, but the ones that are on the "better side", are very good. He definitely knows how to properly structure an album, because the flow of it was beautiful. Each track rode into the next without losing traction and provided an easy listening experience.
Overall, I'd give this project a 6/10 but would also listen to his next body of work without hesitation, to see his growth. I'm on board as a fan after "The Backstage Theory" because I see the potential Citizen has. Some of my favorite cuts include: "Downtown", Thoughts" and "Hands Up". I'm going to look into Citizen more and checkout some of his past work. I look forward to seeing this same style and technique on his next project, with new growth factored in."
So mixed opinions on Citizen's The Backstage Theory, which will be interesting to see if there's any debate to be had. 
As for Phil's pick, we'll be looking at Ras Kass' Soul On Ice. Join in the conversation on Twitter using #SPLAM.
Previous SPLAMs