———————————————————————————
As a massive fan of

Second Hand King

, I was enraged to find his previous effort "

All 
My Fears

" was such a disappointment (
Read The Review Here
). Now he's returned for the follow up – entitled "The Lower Depths" – off the back of the phenomenal "The King Is Back". I was as excited as a small child on Christmas eve in the hopes that this present was the one that was at the top of my wish list. Unfortunately, not all songs of the 23 track, track list are as good as I hoped they would be, there are a couple which are drastically dreadful but it is a much needed improvement upon "All My Fears". Unfortunately, due to the length, the chances of me ever getting round to reviewing the project in full in one go is pretty slim. So for the next couple of weeks, I'm going to drop reviews of each singular track separately and hopefully have this done by the 30th of November. 
"The Lower Depths" starts out with an inspiring sample from "The Pursuit Of Happiness" (Left). The quote is somewhat generic in that it preaches to follow your dreams and other similarly cringe-worthy clichés; Given the context of a Second Hand King album however, I think it's fitting. Being from a city that is relatively new in producing Hip Hop talent and I'm not sure anyone outside of Hip Hop would be able to tell you who Tech N9ne is and he's the biggest rapper from Kansas City. I'm guessing that Second Hand King, real name Joe Stanziola, has bigger aspirations and I can't fault him for it. With all respect to the Strange Music founder, SHK's unique style has the attributes which should catapult Joe to stardom further than Hip Hop. There is a reason he made the top three of my top ten artists to watch list (Read Here) and although I'd perhaps have liked "

Intro: Happiness

" to prove that with breathtaking bars of brilliance, I'll accept that this is an amazing introduction to the tape.
The second song, "

Rather Be Nobody

", is a track I heard what feels like years ago. Second Hand King released it on the 18th of July 2012, and it sounds just as fresh now as it did then. The hypnotic hook is something special, I may never have heard a better chorus in my life. Especially from an independent artist. The verses are a case of hit and miss, thankfully the former is more frequent but SHK shines brightest in the second verse as he questions societies apparent inability to think outside the box. Although there is a distinct lack of polysyllabic rhyming, the monosyllabic never sounds monotonous due to Joe's delightful delivery and an intricate internal rhyme scheme. The beat produced by B. Lewis allows Second Hand King to showcase his true ability but I honestly had to re-listen to "Rather Be Nobody" to remember how the instrumental sounded, I sincerely love SHK over electro-esque beats – so much I'm apparently ignorant (and possibly forgetful) to how much he uses them. I thought "The King Is Back" was the first time he delved into production conventional of electro-pop. This track may not be flawless, but I'd love to be front row at a gig whilst Second Hand King performs it for the energy he injects into it alone. 
The third track of the tape is where I stumbled into my first disappointment of "The Lower 
Depths". "All My Fears" was full of these because Second Hand King was just too good to make such average tracks. "
Talk Strange
" is so reminiscent of the lesser quality songs on the previous project that I find it hard to comprehend why Joe hasn't learnt from his mistakes of letting filler tracks on his tapes, its frustrating to a fan who knows he has the talent to deliver so much better. It's even more a shame when the production – contributed by Dert – is taken into account. The dazzling drum patterns should have laid a foundation for SHK to showcase his tantalising talent, but Joe wasted that opportunity with boring, bland, generic, "the one that got away" lyrics. I may be being a little harsh, but it's bemusing how someone you believe in so much, who has the ability to create something special, can allow something which sounds like a first draft of Lil Wayne's "She Don't Put It Down Like You" verse. I don't mind a throwaway love song, if its delivered right, but in this way, I don't mind saying I'd rather lick a nettle than have to hear "Talk Strange" ever again. 
Coming up to the fourth track of the project, I was reliant on "
Be Yourself
" to ignite some energy back into my ears after "Talk Strange". From the minute Hi-Fly's instrumental – sampling Michael Jackson's "Billie Jean" – opened up the song I knew this was going to be another smash. The chorus, although captivating and catchy, doesn't quite live up to that of "Rather Be Nobody" but it is still better than most hooks you'll hear. It's only the second superb hook from the project so far, but I can already tell that "The Lower Depths" is going to be a great mixtape for heavenly hooks. As for the verses, they are typical of Joe. The metaphors are as confusing as ever, and that's great for poly-interpretation but for those who prefer simpler lyricism there are some inspirational quotables too. This track has a bit of everything, and yet still, Hi-Fly's instrumental steals the show for me. It's phenomenal production at its best, I can't praise Joe enough for being able to turn this brilliant beat into a terrific track – and even uncharacteristically added a couple multi's in for good measure.  
Five track's in and Second Hand King reverts to an interlude. Something I'm not a big fan of, although I'm much more positive about interludes than I am about skits. "

Interlude: Security

" takes a sample from an episode of "Charlie Brown". The sample sees SHK use Linus as a puppet to scream at us listeners asking us "who among you doesn't have an insecurity" reflecting on Joe's own insecurity – a theme which props up countlessly in Second Hand King's catalogue of songs. These interludes are intelligent and intriguing, allowing Second Hand King to give an insight to Joe's taste in TV shows and films whilst remaining relevant to – and introducing new – themes of the tape. I do wonder what Joe's 'comfort blanket' is, I imagine the hint is that its music. If so, that's something I'm sure any reader of this review will relate to. Myself included. 
Second Hand King's beat selection remains consistently great as a sample from what sounds like The Ronnette's or something similar is infused with progressive drum patterns to form a platform for a uncharacteristically poppy, up-beat love song from SHK. The beat produced by Legend Beatz for "S

tand Up Guy

" is stunningly simple in terms of the instrumentation used, or rather the lack thereof. It pushes Second Hand King to rap more than he does sing and yet he manages to remain differentiating notes, adding character to each and ever syllable. That is what I love about Second Hand King – his ability to personify a song and give it life is unparalleled. All isn't well with the song though. The lyricism all seems a little to nursery-like and doesn't raise anything for the listener to think about. This isn't because its a pop song. I think we can all agree that "Thrift Shop" is as poppy as Hip Hop gets and yet its attack on consumerism gives the listener to think about. The only thing "Stand Up Guy" makes me think about is what the point of the song is? I like feel-good music as much as the next man, but I like it a lot more when it has a little extra meaning to it. Perfect for the casual listener.
Kelly Portis takes charge of the production for a short 
track titled "

Flawed

". It's beginning to 
become increasingly irritating writing indepth reviews of each track as I grow more and 
more aware of the over-simplistic nature of Second Hand King's lyricism. It feels as though it's 
so simple that I begin to wonder if I'm just stupid and not catching on to marvellous metaphors entwined within wonderfully, witty wordplay. Could it be that one of my favourite musicians is falling victim to my indepth analysis of tracks in that, I'm becoming to realise how much I dislike parts of his personal music style? I love the sonical element he achieves, but the confusingly simple lyrics leave me with nothing to connect to. This track epitomises that. I hate it.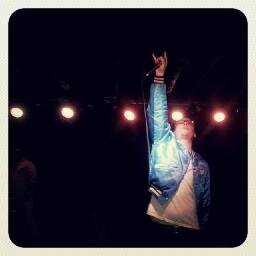 SHK shakes up my emotions with the eighth track of the project; turning my annoyed angst in to a momentary state of melancholy. "

A Million Miles

" pulled at my heart strings and tear ducts from Sinima Beats' piano-based production – reminiscent of Coldplay – alone. The fact I have just had a rant about Joe's lyricism is made awkward by the superb story telling showcased by Second Hand King in "A Million Miles". This is more than a generic love song, primarily because it sounds special. If a song doesn't sound good, nobody cares about how insightful the words are because they can't bear the pain of listening to the sound. Second Hand King manages to catch on to a beat that builds a connection with the listener from the first second and capitalises on that with a captivating chorus – I wonder if Joe has ever considered creating hooks more than full length tracks. The majority of his tracks' most redeeming qualities are the hooks. As a whole, "A Million Miles" is a sure stand-out.
Following on, the title trackn of the project – "

The Lower Depths

" – is so short that its surprising how good it is. I'd like to complain at the lack of a hook, but I'll let it slide for now. Joe essentially combines two different sounds for two short verses centring around a broken up relationship. The imagery in the first verse is powerfully vivid whilst allowing the listener to place themselves in SHK's place due to the emotional resonance which showers the song. The second verse is a monologue of self-reassurance about pretty much living a less-than-desirable life but telling yourself "everythings gonna be alright". It's shortness is justified by its beautiful impact. I love the track because of its surprising superbness being in its shortness, when I expected that to be its downfall.
Track ten see's the third and final interlude of "The Lower Depths". "

Interlude: The Break Up

" follows the interlude tradition of sampling from popular film/television – This time an extract from "Hot Rod" – reflecting Joe's personal tastes in media culture. This particular interlude holds significance signified through the title. "The Break Up" seems to be a recurring theme throughout this project and the interlude seems to add an extra layer to it, hinting outside interference has been the cause of at least one break up for Joe. Maybe I am wrong and SHK has used these interludes for absolutely no reason. But if I'm right in their significance, in "The Lower Depths", Second Hand King has embedded interludes more intelligently than any other rapper I could name.  
This is only tracks 1-10 of a 23 track mixtape, check back tomorrow for reviews of tracks 6-10. If you want to listen to "The Lower Depths" before the review is complete you can download via Bandcamp (Click Here).
———————————————————————————